Who we are
We have learned that the higher you go, the further you see, and the more you can dream."
WITH US YOU CAN SEE FAR...
Cadore is one of the most beautiful and enchanting places in Italy. The Dolomites, the Tre Cime di Lavaredo, the Misurina lake; Countries rich in history and legends, culture and traditions. Unspoiled nature, with streams, forests and wonderful mountains. It is in this setting that our story begins, in the Domegge di Cadore headquarters where our eyewear models have always been born.
From generation to generation, we imagine, create and make products that are the result of continuous research into details for new ideas and trends, inspiring us to a world in constant dynamic evolution where we can not afford to make mistakes.
From Cadore, with pride, thanks to constant research to always offer quality and innovation. We distinguish ourselves in the production of custom-made glasses, suitable and customized for every age and above all, for every shape of the face. Thanks to our exclusive V.E.A. (Virtual Eyewear Assistant) and the innovative 5-axis milling machine.
---
Thema Factory
Born inside our house, located near one of the beautiful dolomitic streams, today FABBRICA THEMA is a pride for Venetian eyewear, with firm roots in Cadore but with a presence in Italy and in the world that makes it a company leader in the private label sector
Looking further, our dreams are our reality in our factories both in Miami and Shanghai. Centering around new styles and fashion. At the Thema factory our ideas and work come together in perfect symbiosis for the satisfaction of our customers.
---
Technology
After years of research, we have revolutionized the acetate manufacturing process by patenting a new technology: 3D ACETATE TECHNOLOGY®. The special 3D cutting technique, permits the frame to be sculpted already with face-form from a cube constructed of multiple layers of acetate, creating an awesome and unusual optical effect.
In order to obtain exclusive colors and particular effects, we can now combine various layers of different color acetate.
In addition to not using solvents, the technique we use, does not allow the inclusion of air bubbles ensuring a perfect adhesion of the plates, from which the glasses are sculpted. As Michelangelo saw the form, the idea, in the rough block of marble, and freed it by sculpting, we use the same concept in the production in the glasses.
This inspiration has led to the creation of the O-Six 3D Acetate collection, inspired by art and produced entirely on demand, biometric ready, without thermal stress on curves. It is ecologically friendly (without the use of solvents) and with an infinite combination of colors.
All this was only the first step towards the complete realization of our dream: to produce a pair of glasses tailored to the consumer, completely BIOMETRIC and made in the shape and color desired by the customer.
Our dream has led us to create V.E.A. (Virtual Eyewear Assistant), the virtual assistant for your glasses.
With Thema's software and hardware, our customers will have the ability to scan there face and obtain the eyewear model best suited for him or her. The customer can choose a wide range of color proposals within the Thema Collection, giving them the opportunity of creating a unique frame with their own biometrical measurements and in their favorite colors.
V.E.A. è ora disponibile in una nuova versione, che, attraverso un'applicazione gratuita, consente a tutti di creare un occhiale personalizzato e unico: https://virtualeyewearassistant.com
---
Thema-tech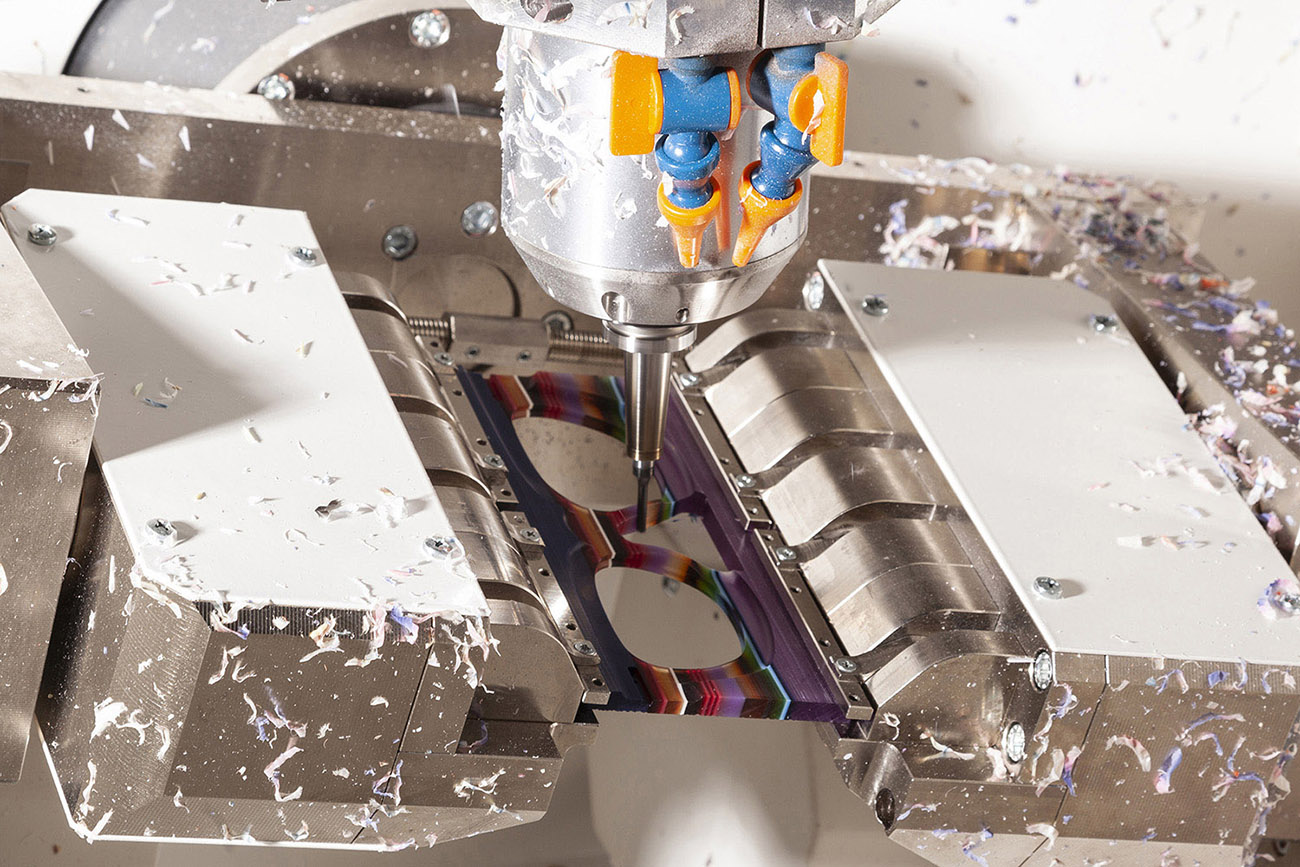 Our innovation continues unabated: in our search to find the best way to satisfy increasing demand for customised products we reached the conclusion that it was necessary to re-think and renew the machinery we use to produce our eyewear; as a result we created Thema Tech, the division dedicated to developing CNC machines to produce eyewear.
Inside Thema Tech, our R&D department in collaboration with CTS sistemi Srl, has perfected and patented four newly designed machines: four milling centres that are perfect for the production of personalised products.
The range of machinery is complete, starting with small machines for in-store production (also suitable for optical stores), right up to systems that can be used for large-scale production; the machinery is integrated with a series of accessory machines for finishing products.
We have achieved the goal of producing 100 pieces of eyewear in 100 different models in the same time a traditional machine produces 100 pieces of eyewear of the same model, taking a major step forward for the production process.